Looking for a fun place to spend the day with friends and family? Want to hold a cookout and enjoy the great outdoors? Do you just want to cool off and enjoy some beautiful crystal clear water? Look no further than Blue Spring State Park!
Blue Spring State Park is a beautiful piece of Florida paradise that holds the largest spring on the St. Johns river! The spring stays a brisk 72 degrees year round which makes it a perfect spot to
cool
off on those
hot Florida days
for swimmers, snorkelers, and certified scuba divers. Manatees call the spring home in the winter months from November-March. The water is off-limits during these times but you are still able to enjoy the park and get a good view of the manatees from above! We brought the dogs and they had a great time walking around the park and saying Hi to all of the kids although we weren't all able to get in the springs at the same time so definitely something to consider before you bring your pups!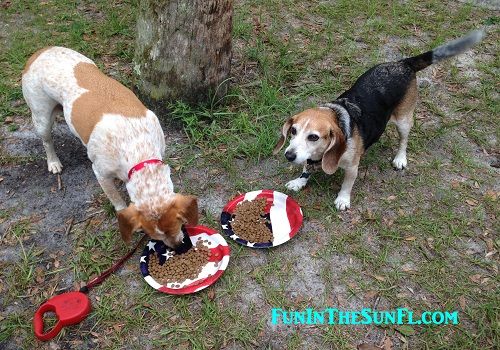 Swimming, Snorkeling, and Scuba Diving:
Whether you're looking to swim, snorkel, or scuba dive, you will want to make the short 10 minute walk up the boardwalk to the Blue Spring Boil and start from there. Blue Spring Run connects the spring to the St. Johns River and flows south towards the river creating a lazy river effect which makes it easier to float or swim down rather than up. If you are certified, you are able to scuba dive into the spring to discover the caves below. Snorkeling allows you to enjoy a better view of the Gar and other fish that inhabit the spring on your swim towards the river. We brought a raft but you can also rent a tube from the park for a small fee.
Picnic:
There are multiple areas with picnic tables and charcoal grills for groups of all size. One of the areas is covered for those Florida summer showers. There are also two Cafes with snacks, drinks, and ice cream. We brought hot dogs and sausages to throw on the grill (don't forget the charcoal, foil, and tongs!) and some chips. Alcoholic beverages are prohibited however. Womp!
Camping:
I can't speak too much to the camping because we've never done it (although I would love to rent a cabin with some friends sometime!) but I will share what I've found from my research:
Cabins
They are fully loaded with a kitchen and ac or heat for the colder months! Now that's MY kinda "camping"! Check out the photos here. There is also a charcoal grill and picnic table for each cabin.
Linens, pillows, blankets and towels plus cooking and eating utensils are provided although linens are not changed daily so I would recommend bringing your own! (One double bead, two singles, and a double sleeper sofa)
Two parking spots
No pets allowed (Sorry pups!)
Two night min @ $95/night plus tax
There are no TV's or telephones in the units! Get out the cards and board games!
Camping
(For the brave souls who want to do the "real" thing!)
There are 46 sites that vary in size
Each site contains a picnic table, charcoal grill, and fire pit
The sites have electricity
Pets are allowed at camp sites although they must be well-behaved
There are train tracks close by and may be heard at night
You can
book your cabin/camp site online
! Or call (800) 326-3521.
Canoeing and Kayaking:
Canoes and Kayaks can be rented at St. Johns River Cruises along the St. Johns River. For costs and reservations call
(407) 330-1612.
Boat Tour:
There is a 2 hour narrated nature and ecological river tour that leaves daily at 10am and 1pm and travels the historic St. Johns River that I would love to take one day! Maybe when we rent one of those cabins! To find out more info you can visit them at
St. Johns River Cruises
.
Tour the Thursby House:
The Thursby House is a historical home built at Blue Spring Landing in 1872 by Louis Thursby. It used to serve as an important shipping point for steamboats in the St. Johns River as well as the railroad.
We got super lost on the way there and ended up going off roading with Matt's poor Camry so hopefully these will help you out! ;)
There are a couple different ways to get there depending on if you are coming from the north or the south but just make sure you end up on W French Ave instead of W Blue Springs Ave like we did!
View Larger Map
Have you ever been to Blue Spring State Park? I'd love to hear about your experience!