Are you a fan of Finnhenry's Public House in Downtown Orlando or Ollie's Public House in College Park? Then you'll love Vanbarry's Public House in south Orlando which was recently opened by the same owners!
Located across the street from Lake Jennie Jewel on South Orange Avenue in Orlando, Vanberry's Public House offers a very laid back atmosphere with great food and should definitely be on your list of places to eat in Orlando! I have heard nothing but great things about this place and had to check it out for myself. I definitely was not disappointed! Everything from the food to the service to the atmosphere was awesome and we will definitely be back!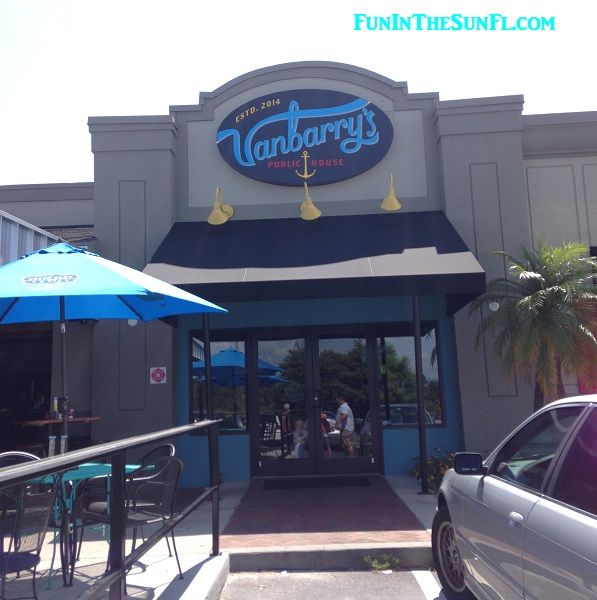 Seating works on a first come-first serve basis but there are plenty of seats inside and outside on their huge patio. There were also garage doors that open to the huge patio which they keep open on nice days. Plenty of TV's both inside and outside will make this a great spot to watch football in the fall!
We sat at a high top inside and was greeted by our friendly server who dropped off a jar of their homemade dill pickles which were delicious. Mmmm...pickles!!
The bloody mary's were also really good and they had a great selection of craft beer.
Food was reasonably priced at around $8-$10 per person. They also offer Brunch on Sunday's from 10am - 3pm which we will have to go back to check out. We ordered steamed peel-and-eat shrimp (my favorite!) as an appetizer which was delicious! My mouth is watering just looking at this picture...
They had live music which is always a plus in my book!
The bar inside:
One of my favorite parts of the restaurant was the super cute fire pit area with sand and beachy chairs to relax with some friends and a drink in your hand. We will definitely be going back to take advantage of this little area!
Have you been to Vanbarry's yet? What did you think?! What about Finnhenry's or Ollie's? Share your experience in the comment section!