**UPDATE: This restaurant is now closed.**
Recently I had the pleasure of experiencing
American Q
BBQ & Beyond at the
B Resort and Spa
near Downtown Disney for a blogger event and was blown away by the food, the drinks, and the hospitality!
American Q is Orlando's newest BBQ restaurant that provides a Brazilian steakhouse experience while serving up American favorites. The table side carvings included nine different selections including Bacon Wrapped Boneless Chicken Thighs and Homemade Sausages while the all-you-can-eat buffet featured 20 different side items served on the bed of a cherry red 1951 Ford pickup truck.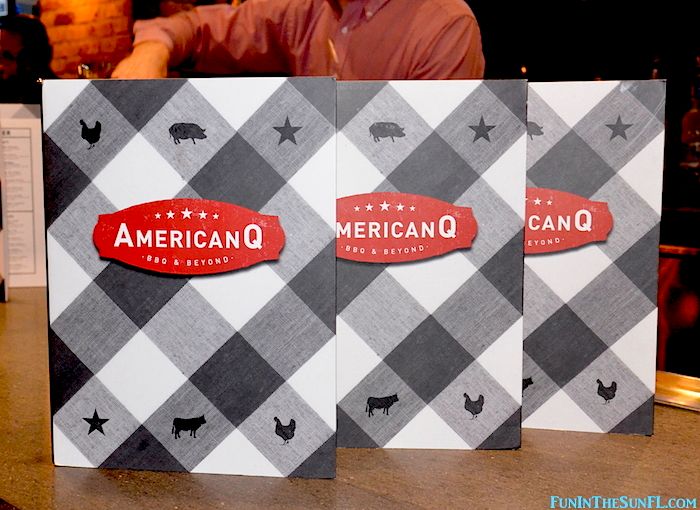 The restaurant has some real southern charm to it from the mason jar glasses on every table for water or sodas to the murals on the walls to all of the little southern accent pieces. It was a really fun restaurant and had so many different things to look at!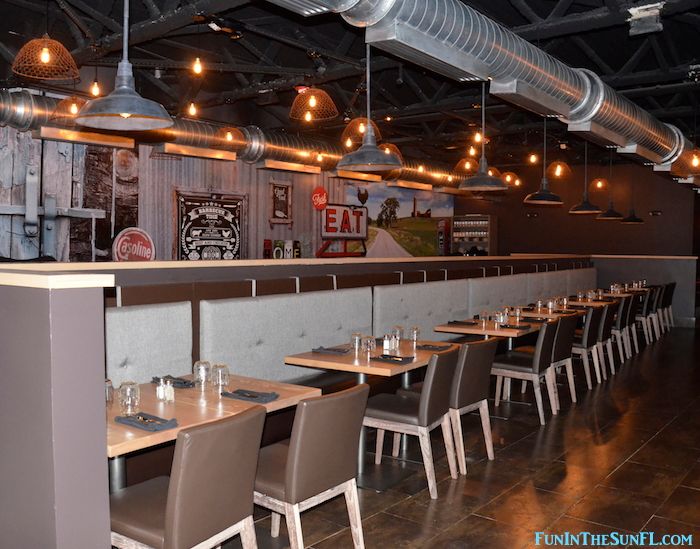 I started the night off with a Raspberry Lemon Cosmo made with Belvedere vodka, raspberry simple syrup and fresh raspberries. It was a very light and refreshing drink and tasted exactly like fresh raspberries! I highly recommend it!
During the cocktail hour, we were able to sample a few snacks from the
bar menu
including:
Swine Candy
smoked bacon roasted with molasses & spice 'til crunchy (they were sweet & then pretty spicy!)
House Made Tater Tots
with bacon salt and served with homemade ketchup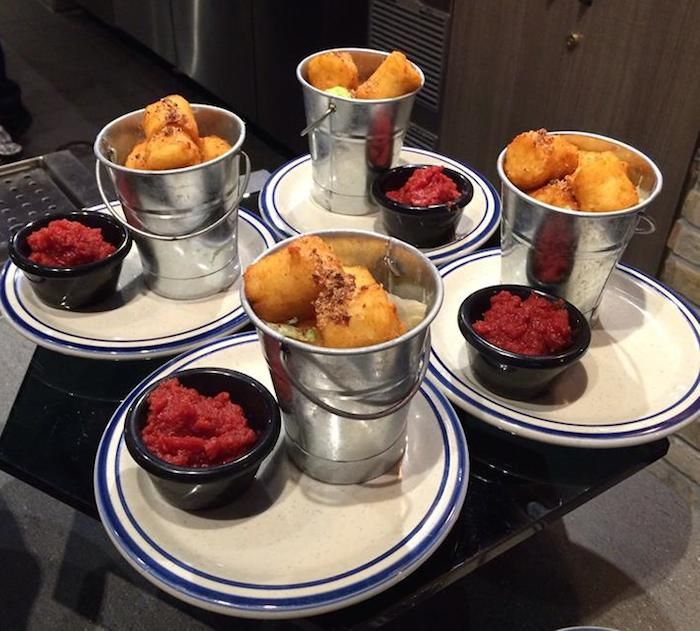 Photo Credit: Leah and Andy from Our Florida Project - Check them out!
Deviled Crab Stuffed Eggs
made with blue crab & rémoulade
I really enjoyed the swine candy (although the spice does catch up to you! Have a drink in had for this dish!) and the deviled crab stuffed eggs (two of my favorite things: crab meat and deviled eggs. Yum!). The tater tots were good although the homemade ketchup was a little chunky for my taste.
After the cocktail hour, we were seated at a long table and introduced to our servers for the evening who began bringing out our starters from the
A La Carte Dinner menu
.
Virginica Oysters
grilled in shell with bacon jam
Alligator Boudin
served on top of roasted tomatoes, peppers & okra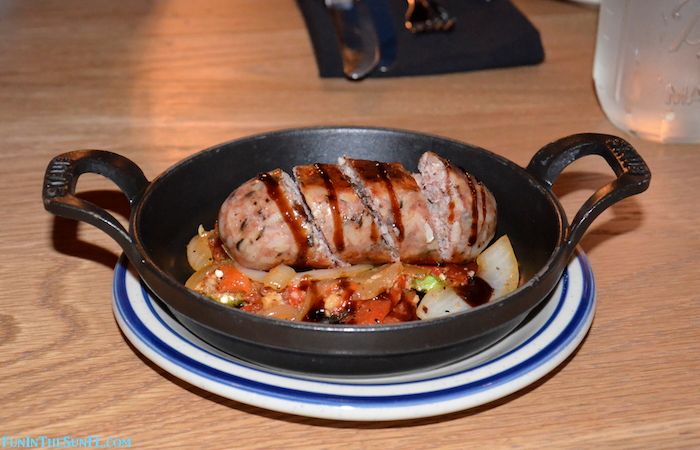 Mahogany Glazed Slow Braised Pork Belly
served with a spicy watermelon salad
I was impressed with the Vigincia Oysters because I'm not typically an oyster fan. These were pretty tasty! The Alligator Boudin (Gator sausage basically) was so good! The Pork Belly was fantastic as well and the watermelon salad complemented it very nicely!
We made our way to the
Flatbed Buffet
which was served on the back of a '51 Ford pickup truck and included 20 different items that change daily. My favorites here were the baked macaroni, the baked potato bar, the pasta salad, and the chili con carne.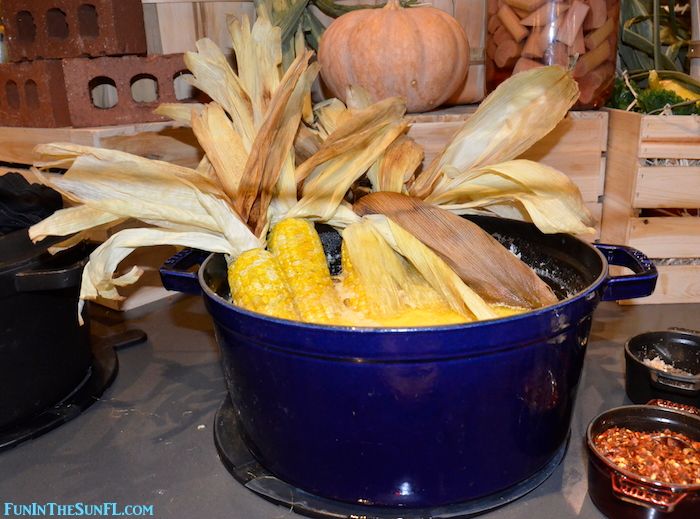 Executive Chef Justin Leo stopped by our table to talk to us about the food and answer any questions we had. He was super nice and extremely passionate about his career.
The Table Side Carvings started coming around shortly after and our servers were great about answering any questions we had about the meats they were carving. My favorites from this serving were the Picanha of Beef (highly recommended by our server!) and the Smoked Pork Shoulder with Spiced Onions.
Housemade Sausage
Slow Smoked Tom Turkey Drum with Mahogany Glaze
Brisket of Beef with Texas Bark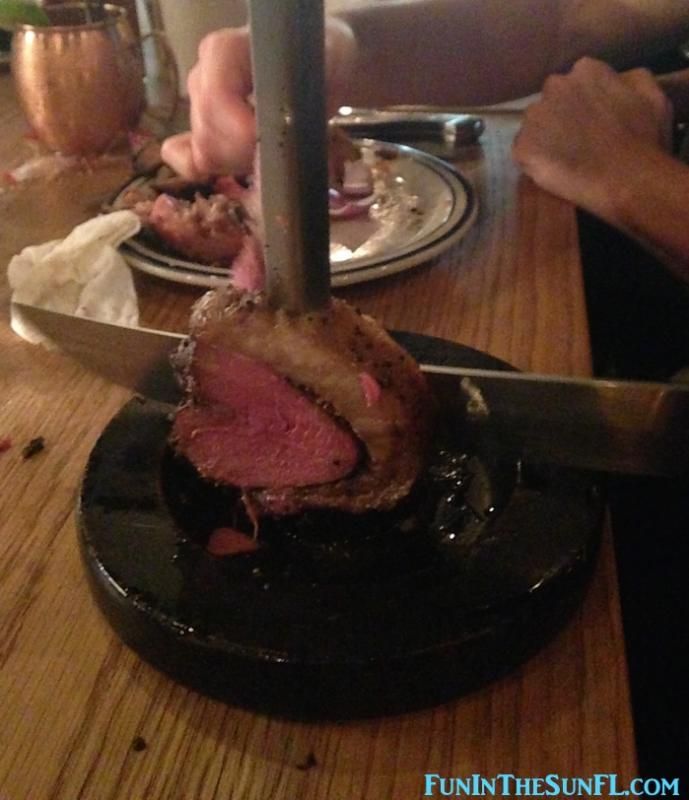 Picanha of Beef
Everyone was stuffed halfway through the carving but we pushed through it! And then came
dessert
... I felt like I was going to explode but my sweet tooth was telling me to go for it and I wasn't disappointed!
Berry Cobbler
served with vanilla ice cream (By far my FAVORITE!)
S'mores Pie
layered graham crackers, flourless chocolate cake & toasted marshmallow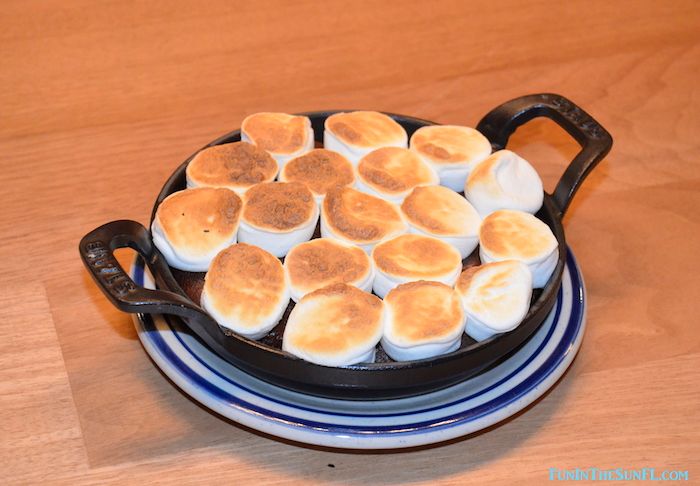 Salted Caramel Cheesecake
vanilla cheesecake & salted caramel drizzle
Overall, I had a great experience at American Q and will definitely be back!
Make sure to follow American Q on their social sites:
Facebook
Twitter - @American_Q
Instagram - @American.Q
American Q kindly provided a complimentary meal, but all opinions are my own.