What's better than bar hopping in Historic Downtown Sanford? How about bar hopping while traveling on a mobile bar!? Yup...that happens! I have been wanting to experience one of these tours since we saw this contraption in downtown Bradenton back in July so I was super stoked to learn we had one right here in Central Florida!
This was my first visit to Historic Downtown Sanford and I instantly fell in love with the old time charm of the old historic city. I just love walking around brick-paved streets with my camera in hand and learning about the history of these old Florida towns.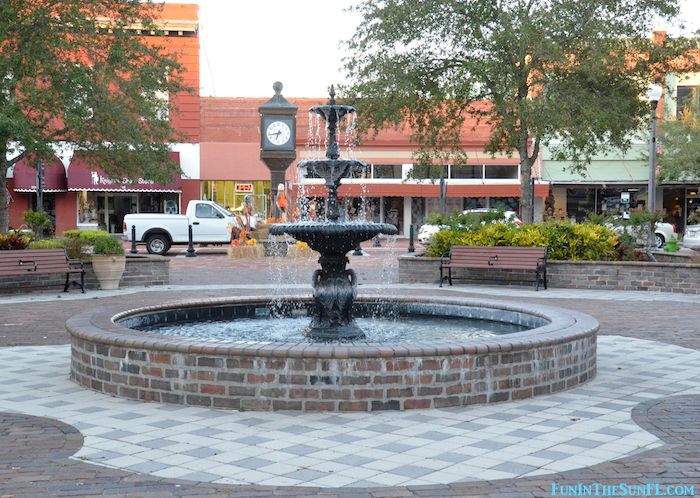 The Breezeway Bar & Restaurant
Limo Cycle Tours
offers a unique way to explore downtown Sanford with friends and drinks in hand! Whether you're looking for a day/night out with friends, a unique tailgating experience, Bachelor/Bachelorette party fun, Birthday party, whatever the occasion, Limo Cycle Tours has got you covered! You can customize your tour and select the bars you would like to visit
within the designated Sanford bar crawl zone
.
The cycle features:
Padded, upholstered seats for 10 peddlers and 5 cruisers
Low step running board
2- 60 quart ice chests filled with ice
Adjustable seats
A licensed, designated driver and happy attentive tour guide
Lots of overhead storage
Purse/bag hooks
Personal misting system with fans to keep you cool
6 speaker stereo system with iPod/iPhone/MP3 player attachment
Personal cup holders
Beach games (Corn Hole, Ladder Golf, Frisbees)
Built-in BBQ Grill (minimum 3 hour rental)
Fresh air, good times and great memories
Things to know for your next Limo Cycle Tour:
The Limo Cycle features 10 pedal seats and 5 additional non-pedal seats.
Pricing (as of Oct 22, 2014):
-Sanford 2 hour private tour - $350 - $390
-Sanford 3 hour private tour -$525 - $585
-Sanford All-Inclusive Public Pub Crawl - $35/person (2 hour tour including 4 drinks from 4 different bars!)
-You can
book your next tour here
!
Tours operate from 10:00am – 10:00pm Tuesday through Saturday and 10:00am – 8:00pm on Sunday.
Bring your own music! iPod/MP3/USB/CD formats!
Wear closed-toed shoes if you will be pedaling.
*Bring your own Beer and Wine - no hard liquor and no glass containers! There is also a tap available for a keg!
Back to my experience....
I met up with the Central Florida Lady Bloggers group at the Limo cycle headquarters and we hopped on the cycle to begin our pub crawl! I got lucky and sat at a seat where I didn't have to pedal which I was okay with. Those girls were working hard!
Captain Jake ran through the rules while our bartender Lauren served up the beer, wine, and sangria we had brought with us and then we were off! It was pretty difficult to drink while the cycle was moving so every stop sign became a "
Red light social
" where we would cheers, yell, and then take a drink before taking off again! We were having a blast and made sure everyone we passed knew it!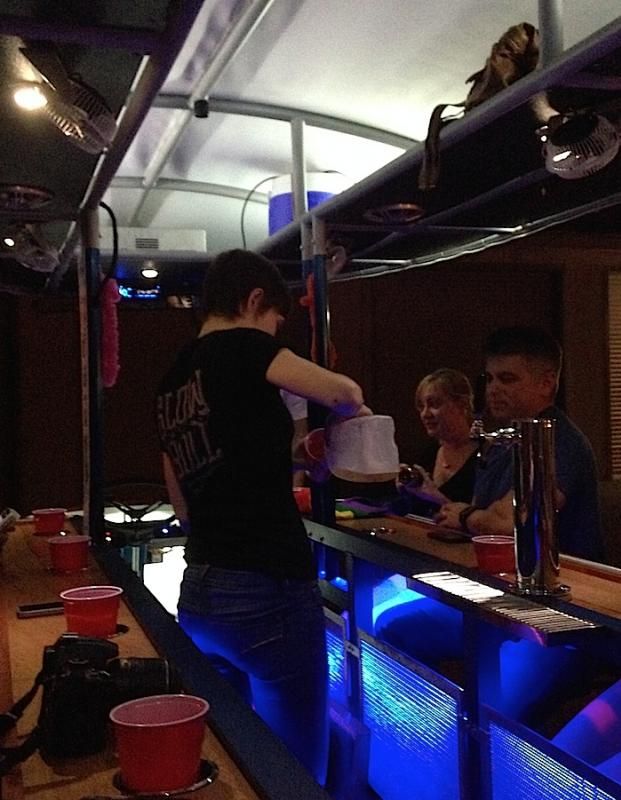 Hollerbach's Willow Tree Cafe
Our first stop on the tour was
Hollerbach's Willow Tree Cafe
which was a cute little German restaurant that features authentic German food and entertainment. The owner knew we were on the way and had snacks and Das Boot ready for us when we got there! We had a blast taking turns drinking out of the three-liter boot and dancing along to the live German music! I will definitely be bringing some friends back to experience this charming little restaurant.
Jimmy and Eckhard provide entertainment on Thursday, Friday, Saturday and Sunday evenings.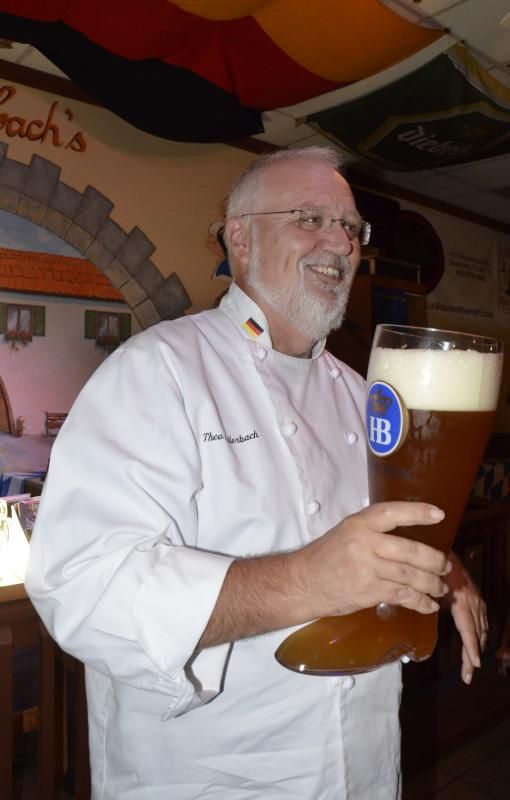 Chef/Owner Theo Hollerbach presenting us with Das Boot!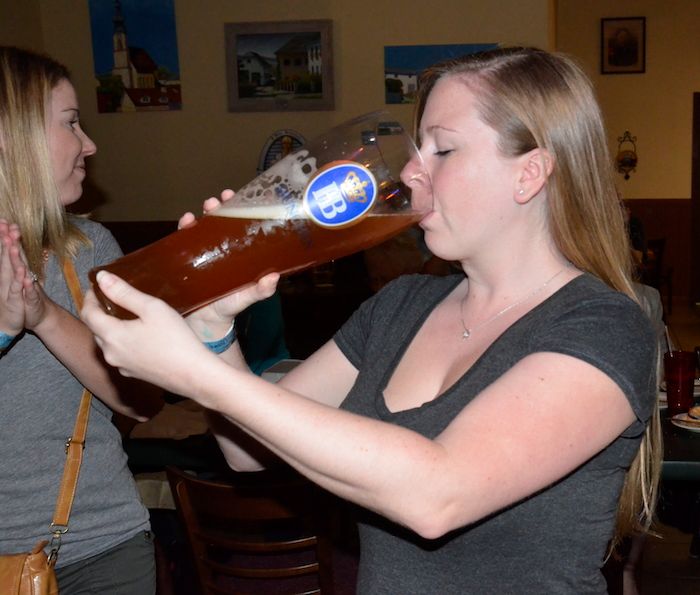 Das Boot!
Claudia of Sanford 365 who kindly put this tour together for us!
Riesen Brezen (a 10 oz pretzel!)
Knockwurst Sausage Sliders
Hollerbachs patio
Nemo's Bar & Grill
Nemo's Bar & Grill
was next on the list! The restaurant is located on Lake Monroe and offers amazing water views. It was dark by the time we got there so we didn't have the chance to enjoy the waterfront views but next time we are in town during the day, I will definitely be stopping by.
Me with Christina of Go Epicurista and Laura of Orlando on the Cheap !
The Imperial
The last stop of the evening was to
The Imperial at Washburn Imports
. This was a unique, hip bar that was connected to Washburn Imports: an import furniture store. Some of the furniture and decor from the antique store spilled over into the bar and was for sale. One of the girls suggested guessing the prices of the pieces which would make for a fun drinking game! There is another location in Orlando on Orange Ave near downtown which is known for the craft beer selection however does not have a full liquor license and does not offer liquor.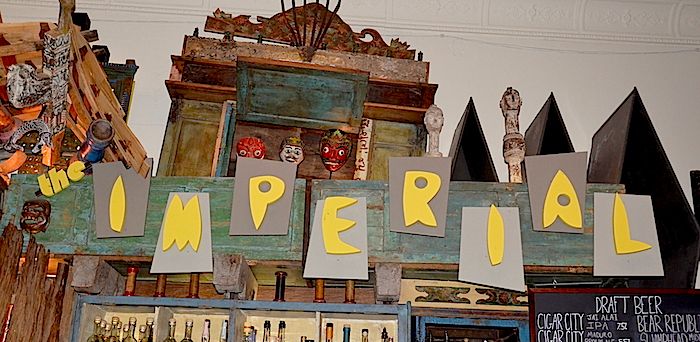 The cocktail menu at The Imperial in Sanford is very unique and features hand crafted cocktails made with top shelf whiskey and gin. I wasn't feeling very adventurous however and decided to go with a Cider instead.
Overall, I was thoroughly impressed with Sanford's downtown night-life scene and will definitely be back with friends! We had a blast on the Limo Cycle and look forward to exploring some new bars next time we visit.
What are your favorite bars in downtown Sanford? Leave a comment below!
Limo Cycle Tours kindly provided a free pub crawl tour. All opinions are my own.