This past weekend we drove out to Tampa for what has become one of my all time favorite traditions here in Florida:
Gasparilla!
This was my 6th Gasparilla and it definitely did not disappoint!
For those of you who don't know what Gasparilla is, get ready to start planning now because you're not going to want to miss it next year!
The annual Gasparilla festival spans from the end of January to early March and includes parades, art festivals, a music festival, and a race. This post will focus on the two parades that most recently occurred in Tampa Bay including the Gasparilla Pirate Fest that we attended this past Saturday. If you would like to learn about the other events, you can view the
Gasparilla Schedule of Events
.
Children's Gasparilla Extravaganza
(Image Credit: Bay News 9)
The Gasparilla Children's event is an alcohol-free event, celebrating the return of the Gasparilla season to Tampa Bay presented by McDonald's. This year, the event was held on January 24, 2015.
The day-long event consists of:
There is reserved seating available for $33/person on a much less crowded side of the parade. This side of the parade also include bleacher seating areas.
You can learn more about the Children's festival and purchase reserved seating
here
.


Gasparilla Pirate Fest
This is the main event that we've always been to and always have a blast! The event is sponsored by the Seminole Hard Rock casino and is basically just a huge pirate-themed party that runs up Bayshore Blvd into downtown Tampa. The parade is always the last Saturday in January so mark your calendars now!
The Invasion - The day's festivities begin with a "re-enactment" of Tampa's historic pirate invasion, the Gasparilla Flotilla – led by the Jose Gasparilla (the world's only fully-rigged pirate ship). The ship is joined by hundreds of boaters from the bay area who make their way toward City Hall so that the Captain of Ye Mystic Krewe of Gasparilla can seize the key from the Mayor of the city!

It's cool to see the ships come into the bay but we typically take this time to get something to eat and start pre-gaming! ;)
(Img Credit: Kim Fatica)



Gasparilla Invasion Brunch - the brunch is held at the convention center and requires a reserved ticket for admission.






We've never done the brunch since we usually find a pre-game party somewhere along Bayshore!






Gasparilla Parade of the Pirates - This is the fun part! The parade starts at Bay to Bay Blvd and runs up Bayshore Blvd into downtown Tampa and typically starts around 2pm. There are plenty of food and beer vendors up and down the parade route. The parade route fills up pretty quickly so you have to get there early if you want a good spot right up against the barricades or you can buy a reserved bleacher seat on the other side of the parade route.






We have always gone the free route and brought a thermos with some kind of fruity vodka drink. The past few years, we've pushed our way to the front of the barricades and ended up with so many beads our necks hurt afterwards! This year we took it easy and stayed back but still ended up with a decent amount of beads! The only downfall this year was we couldn't really see the floats. If it's a nice day out, you can almost always bet it's going to be crazy busy so either get there super early and camp out your section or buy a reserved seat if you don't like being elbowed! (I'm speaking from experience here because you will feel like you're in a mosh pit at times!) The people-watching is about as much fun as the parade as Bayshore becomes lined with drunk pirates!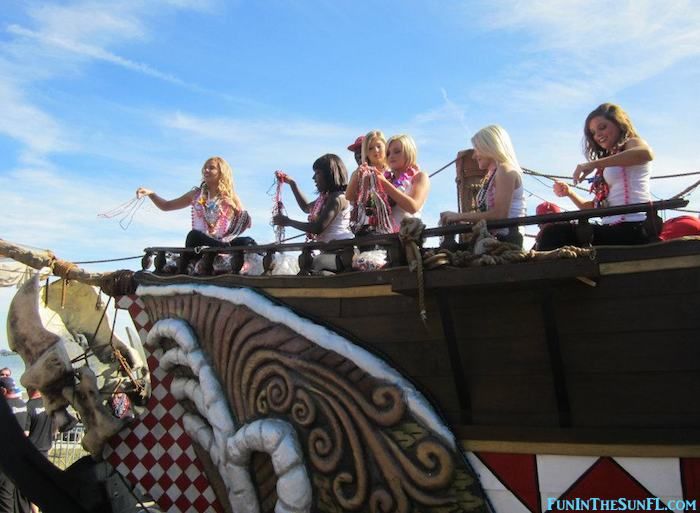 Gasparilla Pirate Fest Street Festival - this post-parade concert is held in downtown Tampa and typically includes smaller local artists at Curtis Hixon Waterfront Park. General admission is $30 and $75 for VIP.






After the parade, we usually find a bar with specials or find another house party. The Tampa bar scene dies pretty early after Gasparilla since everyone is typically drinking all day.
Photos from past years: