I love going to live shows and have been to quite a few at the House of Blues in Downtown Disney! It is an intimate venue with a lot to offer before, during and after the show!
We recently went to see a Led Zeppelin cover band (
Zoso
- if you want to look them up) and we had a blast! My step dad is a huge Zeppelin fan so it was a fun event for the whole family!
We started the night off by grabbing drinks at the patio bar outside the restaurant. The patio tables are all first come-first serve so you may have to scout for people leaving especially right before a show. Once you have a table, you can either wait for a server to come by or grab a drink from the bar yourself. We ended up grabbing a beer from the bar and then ordering some nachos from our server.
Smokehouse Nachos with pork: (Those Cayenne peppers were SPICY!!)
They also have live music on the patio to keep you entertained while you wait for the doors to open.
House of Blues also offers a full dining experience at their
Crossroads restaurant
located right next to the club. We have never been but have heard that it is a great experience and good food but very pricey. (It's Disney so you should expect the food to be a little more expensive.)
The club entrance is to the right of the restaurant and outdoor garden. The whole place has so much character!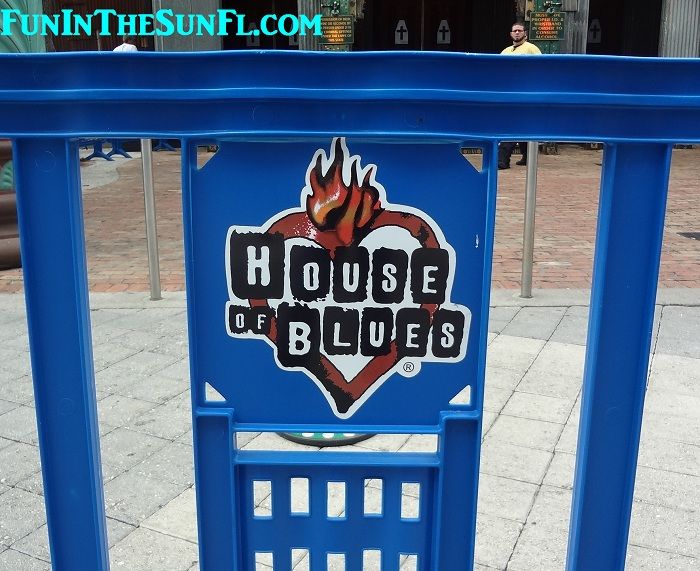 It's super dark in the club and was difficult to get any good pictures but when you go in, you can either go upstairs to watch the show from the balcony (although the upstairs space was an extra charge for this show. It typically isn't though for standing room only.), find a spot up by the stage in the pit (be ready to be surrounded by sweaty people!) or hang out around the outside of the pit closer to the bar (my favorite spot!). Drinks are reasonably priced and they do have a snack bar inside with warm pretzels and pizza if you didn't have time to grab something before the show.
We had a great time and can't wait to go back for the next show! I would love to see Coheed and Cambria on Sept. 19th! You can
find your next show here
.
Have you ever been to a show at the House of Blues? Who did you see?